If every Monday could be so perfect
So while everyone had their long weekend, I worked both Friday and Saturday and earned myself two off days this week.
But being the dedicated star-of-the-office workaholic type, I dropped by the office on Monday morning to get some work done and attended some Sales Lunch and Learn session (which turned out to be rubbish).
It was still bright and early with the afternoon sun when I left the building, so I decided to take a nice stroll to Cityhall which was a train station away, taking me past all the pretty historical sights.
I whipped out my digital camera, plugged into my MP3 player and decided to play tourist for half an hour. Nobody would know I was local and if they came up to me I would speak with a bad Hong Kong accent to confuse them.
And I realized, that as much as I would love to live in Boston, in Chiangmai, in London or in San Francisco, Singapore is Singapore and it would always be home.
Here are the shots I took, my slice of Singapore-
This was a message I sent to Cici whom I was supposed to meet for coffee- "I am pretending to be a tourist! Taking pictures on an idyllic stroll down Raffles Place-City Hall! Nobody knows me!" I felt that the exclamation marks were very appropriate, heh.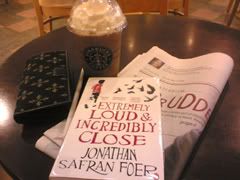 I continued with a quiet two hours in Starbucks sipping on an Iced Caffe Mocha and reading my book. I would have stayed longer but the story left me feeling so incredibly sad I was almost certain I would break down crying and embarrass myself in public, so I had to leave.
But sigh, if every Monday could be so perfect.

Link to this entry |