Saturday, December 30, 2006
Soon to be 24
I love how there's always a surprise package for me on my work desk everytime I come back from vay-kay and this time there were two envelopes that were delivered separately.
The first was a beautiful pop-up card of the Tokyo night scene from Rika asking me to visit her soon and the second was a birthday card from Jeff attentioned to "The Greatest T Tan" - he had sent it a week earlier so I would get it on time!
"You must be the luckiest girl in the world to have the birthday on the same day as new year. It symbolises a brand new start when your birthday comes... I am very honoured to have known you in 2006."

Awwww!
And so I made him pose with me for silly video captures to commemorate the last work day of 2006, and I do adore his new haircut very muchly!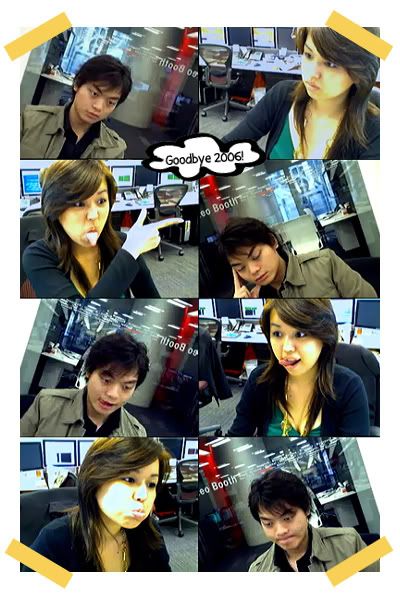 I am blessed with awesome colleagues.

Like Rody who wanted to make sure I was okay when he heard about the quake in Taiwan and called me on my mobile all the way from SF. And he's sending me a package for my birthday, even though I would have been happy with just a card.
Even my tough-as-nail APAC manager wished me a "Happy Birthday dear" which was sweet and unsettling both at once, hah!
And sweet Jer who insisted on paying for the very expensive "I LOVE NERDS" vintage tee when we were window shopping before our movie.

3 days to turning 24 and I have already started receiving wishes, hugs and birthday gifts even though I said I really don't need anything.

So many things to be grateful for!
"Blessed are the people whose God is the LORD."- Psalm 144:15

Link to this entry |