Wednesday, March 21, 2007
A day with the Peter
The Peter took a T day on Friday to spend with me and we spent about 24 waking hours together exploring Hong Kong.


I was up at 630 in the morning and found myself knocking on his door at a quarter past 8, said hello to his mum and hung around talking to her. The three of us then walked from his apartment in

Ngau Tau Kok

to the new mall at

Kwan Teng

and spent the morning at Starbucks. Then we took a train to Mongkok to scout for a webcam for his mum but she left midway due to her worsening cough from the unforgiving pollution.

We had our lunch somewhere near Argyle Centre and then decided to take another train to

Wan Chai

to continue our hunt. After we got the webcam, we wanted to walk down to

Admiralty

and somehow wandered to Pacific Plaza at

Central

and sat down at Starbucks again to hook up the gadget to Skype for his mum and watched movie trailers on his laptop.

It was almost 6 when we were done, so we took a cab back to Northpoint so I could change to something more clubby while he went to visit his grandmother at the nursing centre.



We then met up with Jeff and the rest for dinner at Crystal Jade IFC and walked to Lan Kwai Fong for dessert at Haagen Daaz. It was about midnight when we made our way to Hei Hei for our last major night out in Hong Kong.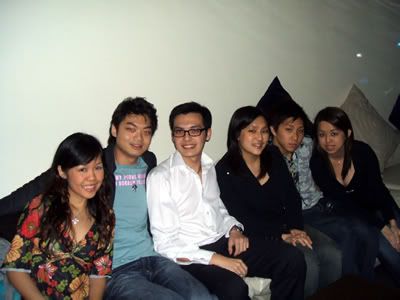 The only thing was that the Peter and I were so tired out from our long day that we both fell asleep at the couch, much to the annoyance of Jeff who tried to wake us up but to no avail. He left at 4 with Toby and Kitty for supper while the Peter and I were concussed at the couch. We woke up around 430 and boogied a bit before heading back to the couch for a quick snooze again... and only awoke at near 6 to find that almost everyone had left.

We ended up walking in a drizzle trying to find an open Macdonald's to grab some brekkie before we head home.

Definitely a night to remember. ;)

Labels: holiday, hong kong, memories, night, party, photo, travel

Link to this entry |