Sunday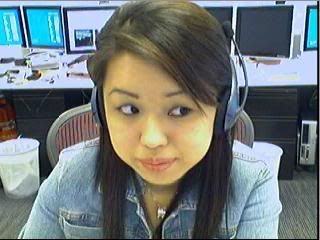 So I am at work on a Sunday morning but it's quiet and I've got my dorky headphones on and groovin' to music from a shared folder.
I am surprisingly awake for someone who only crawled into bed at 4:30 a.m. and was up at 6 to shower and get ready for work. It was pouring and I had to call for a cab.
Yesterday I napped a bit in the afternoon to make up for all the sleep I have not been getting and then met
Casey
in town for dinner and shopping. I
love
the girl so much and it's comforting to know that as I continue to evolve as a person, she is there for me without judgement. We had dinner at Thai Express and the most amazing chocolate at Max Brenner's.
A perfect night out with a girlfriend, except I unwisely chose the Marachino from the menu at Max Brenner's, which for the uninitiated is espresso with dark chocolate cream. The espresso kicked in once I got home, which is why I found myself wide awake till half-past 4 in the morning when I had to be at work by 7.
I was high on caffeine and got excited about my trip and am almost done with the packing, which frees me up to meet all the people I promised to on the weeknights before I leave.

It's gonna be a crazy week lined up with client trainings, a conference call to be scheduled, reports to write, e-mails to send out... on top of my normal duties on the desk.

Labels: food, friendship, travel, work

Link to this entry |