Home
After waiting for a month, my Certificate of Eligiblity finally arrived!

Applying for a work visa in Japan is a longdrawn process- you first need to submit your documents (which include your original degree, transcripts, letters of proof from your schools and tons of forms to be filled out) to the Embassy in Japan to obtain a COE. This will take about a month to process, after which you submit the COE along with your passport and more forms to get your work visa. Depending on where you are, the visa can take anything from 3 days to 10 weeks before it is approved.

I spoke to HR and was advised to either fly to Guam or South Korea to do the visa as it would take much faster rather than waiting it out in Japan.
Guam sounded almost exciting to travel to on my own until I spoke to my colleagues from Berlitz, two of whom had lived there for a few years and suffered intolerable racism and physical attacks from the indigenous people, not to mention the supposedly corrupt government. I decided to rule that out along with South Korea since I don't speak the language.
So I checked out the airfares online and found out that it was actually cheaper for me to just fly home and get it processed within three days! Not only that, I save on accomodation and get to see my family and friends whom I miss terribly
and
I can stock on local products and shop myself silly since there are some things that are just too expensive to buy here.
In other words, I am going home for a week!
I called the agency this morning and booked a ticket for next Monday- it costs only 42,800 yen (which is about SGD550) for a direct return ticket inclusive of taxes and fuel surcharge.
Also, my cousin flew in yesterday with her husband and kid on a free and easy package, and I travelled down to Ariake to meet them and show them around Venus Fort mall. It was nice to see someone from home and they also brought a care package from Mummy dearest!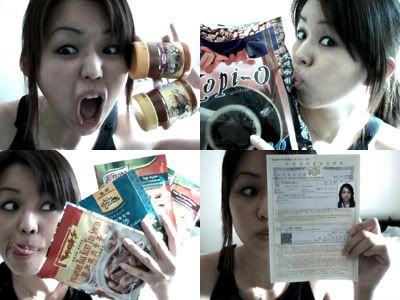 She decided to send me enough mixes, spices and bottled chilli for me to open my own restaurant, except she forgot I cannot cook to save my life. I am planning to share my loot with P and the housemates anyways, since I have been imposing on them for so long! My aunty also sent two huge packs of Kopi-O because she heard I love coffee, which made me want to break into the Great Singapore Workout.

And as if my life is not already perfect, my best friend Jo decided to apply to Berlitz and will be coming to Tokyo from the 22nd to 1st for a holiday and interview... tanoshimi desu ne.
I am one happy girl, and P commented that I am finally back to being myself again.
Labels: family, food, home, photo, travel

Link to this entry |