Wednesday, August 29, 2007
Casey
This is dedicated to Miss Casey Chiang, who spent $60 to send groceries I had asked for on MSN
on a whim
, and it arrived a week via super express service.
That's love for you right there.
She bought me three flavours of instant mee, two big tubes of Colgate, a bottle of Nonya kaya and a huge packet of Aik Cheong white coffee.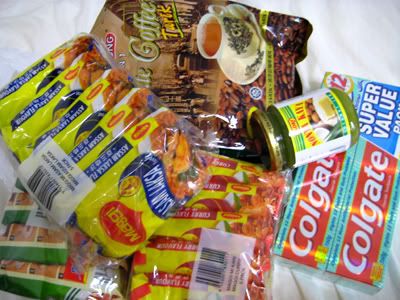 I am so touched I don't even know what to say, but thank you very much my dearest girlfriend and I miss
everything
we used to do back home, especially artsy flicks, coffee and karaoke.
When you come next year, let's do Kyoto and Hokkaido and be fantabulous together!
Labels: food, friendship, home, photo

Link to this entry |