Curlilocks and the witching hour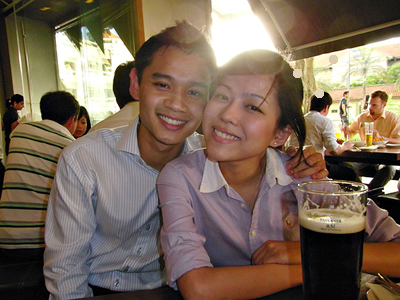 Today I masqueraded as Curlilocks.
My boy made a dinner reservation at Garibaldi, touted as the best Italian restaurant in Singapore. Too late for Valentine's and too early for White Day, but he decided that we deserved a nice night out since he was going to be away for a while (before I got my ticket to Melbourne).
We got to town early so we did our usual cafe reading routine and window-shopped for a bit, and then met my sister and Harley ("Harlene" or "Joley" if you like) for a beer and chat before heading to the restaurant.
Besides the complimentary soup and free flow of freshly baked onion bread dipped in olive oil and balsamic vinegar, we also had the Trenette Vongole E Bottarga (spaghetti with air-flown clams and grey mullet roe in white wine sauce) and Risotto Zucca Foie Gras E Balsamico (pumpkin risotto with panfried foie gras and balsamico glaze). They were really good and left us absolutely stuffed!
We had to skip the wine because it was a ridiculous $90 per glass- I laughed when I saw the menu, and decided to walk over to Max Brenner's at the Esplanade for dessert instead.
Thank you my love for the wonderful date!
Labels: beer, family, food, home, love, memories, photo

Link to this entry |