Monday, December 14, 2009
Everybody's changing, and I don't feel the same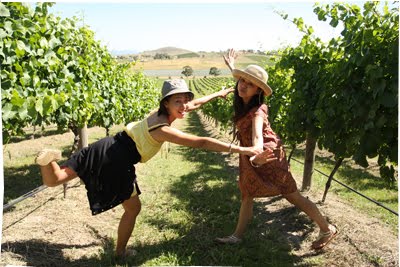 Chaz has come and gone faster than the blink of an eyelid, but I am glad to have been able to play host
and
tourist when she was here.
She had the perfect last night in Melbourne- we watched La Boheme at the Sidney Myer Music Bowl for free. There must have been over a thousand people there, many of whom got there early to get a good picnic spot. Chaz and I bought a spread from Coles- we had roast chicken, cold cut, smoked salmon, mussels, Greek olives, Rock Deli chips, crackers and dips, plus we polished off 3 bottles of red wine between 4 of us. The weather was bit chilly but I had E to keep me warm. ;)
I must say that opera is starting to grow on me. E bought tickets for us to watch Aida for our 2nd anniversary recently, and I really enjoyed the grandeur of it all. I also found out that his parents had named him after a Puccini opera, so that's going to be the next on our to-see list!
Apparently in summer there are heaps of free outdoor gigs all over Melbourne, and E has marked them all down in his iPhone so we'll be keeping busy.
P/S: I got my official results for Semester 1 via e-mail on Monday, and I got straight As. :) In retrospect, my time in Melbourne has been a rollercoaster ride and I am thankful that everything worked out in the end. 頑張ります!
Labels: friendship, love, memories, park, photo, summer, uni

Link to this entry |