The Grampians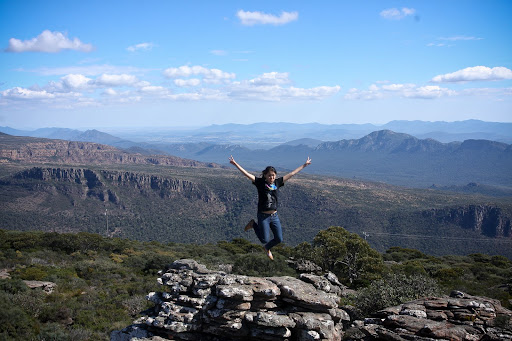 Leaping off the peak of Mount William in the Grampians, Victoria
The Grampians is made up of stunning sandstone mountain ranges and located about 235 km west of Melbourne. Declared a National Park in 1984, it is a popular getaway for couples, friends, families and visitors to Melbourne.
We arrived on Easter Sunday afternoon without any bookings and were once again very lucky to secure a camping site via the
Brambuk National Park and Cultural Centre
. We only had to register with the staff and paid $15 (if I remember correctly) admin fee for a permit to camp at any of their 11 sites.
I wanted somewhere with shower facilities, so we drove about 30 minutes northwards to the Smith Mill camping ground near Lake Wartook. Imagine my surprise when I discovered that the "bush shower" mentioned in the map referred to a bucket on a string. Thank God we were only staying for the night so I decided to rough it out and skipped my shower.
We visited Lake Wartook and The Balconies and made it to the top of Mount William, the highest peak in the Grampians. We also played Good Samaritan to a young couple who was stranded along the way when their car broke down and I found out in the car that the girl was actually German and had lived in Singapore for 7 years! Talk about random coincidences.
Because I couldn't take a shower and had unwisely packed only knits (assuming that it would be freezing cold), I looked really daggy wearing E's tee shirts that were two sizes too big on me and gross unwashed hair. Charming, I know, and I have the pictures to prove it.
Still, I can't wait to go camping again!
You can view the slideshow of all our photos from The Grampians
here
!
Labels: australia, camping, love, memories, photo, travel

Link to this entry |