长夜
Yesterday turned out to be a really long day.

What started out as a trip to the supermarket to buy groceries for lunch ended up with us queueing up in the drizzle for half an hour for ghetto-famous ramen, and the portions are so ridiculously huge it literally makes you sick when you're done and it ended up being our first and only meal for the day.

I realized that despite having been here for three weeks, there is an entire side of Takadanobaba I haven't explored and it felt like I was in a different part of the world! I love how Japan never ceases to surprise me at every turn with the countless cafes, restaurants, bars, shops and random establishments that always present something new each time you visit.

We then decided to head to Akihabara to do gadget shopping, and P came back with a chic HP Photosmart C5180 and I got a SanDisk Ultra II CompactFlash 1GB for my digicam. I also almost got a red Logitech mouse and rose-pink audio-technica inner-earphones that came in a pretty red tin with a hisbiscus motif.

If I had my way and money, I would make a weekly prilgramage to Yodobashi and slowly buy the store out.

We came back in the evening and had a quick shower before meeting his friends Ryan and Ken for sheesha at an Egyptian restaurant in Shibuya.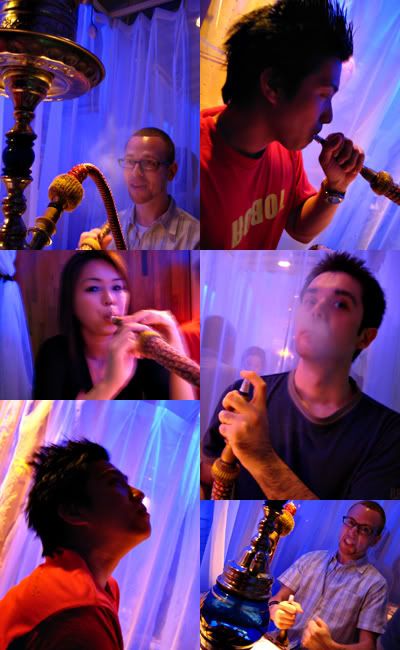 It was a lot of fun and only cost me 2000 yen for two blends of sheesha and two drinks. The only damper was a time limit of two hours, which left us standing in the middle of Shibuya at half-past ten wondering where we should go next.
After a few phone calls, we hooked up with Ken's younger sister who also happened to be in the area and we joined her and her gang of international-school kids friends for karaoke. I was feeling slightly uncool and overaged until they started belting out Disney classics and old rock songs and it was all good fun in the end. It was all-you-can-drink with an hour of karaoke for just 900 yen!
P and I ran from the lounge to the train station just in time to catch the last train at 12:45 a.m. and we went home to grab umbrellas before going out again to the video store to return our DVD and pick out new titles.
I was feeling faint with hunger, so we dropped by the hyaku-yen store on our way back and bought fish and some vegetables. It was 3:30 am by the time we were done with cooking and eating and I was forced to have a quick shower and pretty much collapsed onto bed.
I guess I just had my first crazy night out in Tokyo.
Labels: culture, food, friendship, gadget, memories, night, photo, tokyo

Link to this entry |