My life in Tokyo is finally taking shape.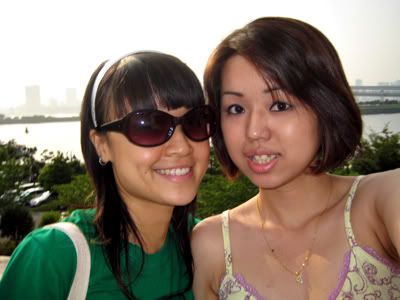 Rainbow Bridge, Odaiba
Jo returned to Singapore yesterday, and I kinda miss her already. We didn't actually get to hang out all that much when she was here, but I showed her Ikebukuro, Takadanobaba, Odaiba, Akihabara, Marunouchi and Ueno. She did a lot of exploring of her own when she was here and often took trains in the wrong direction, but I assured her that I get lost on a regular basis here.
More importantly, she had her first and second interview with Berlitz AND SHE GOT THE JOB TOO! She will be moving here probably late September or early October once everything at home is settled, and I can't wait to have her here with me! She will be teaching at Machida which is also on the Odakyu line, about 15-20 minutes away from me.
Speaking of work, I had my official day on Saturday and it was fun! All sorts of students come to Berlitz- one was a baker who was going to the US to enrol in a baking institute, another a Nissan car designer and part-time electric guitarist in a rock band, another a health magazine editor and of course you have the token salarymen... Their favourite questions for me were where I came from and why I was in Japan, and I would joke that I relocated here to marry Fukuyama Masaharu which always amuses them.
My schedule for work is Mon, Wed and Thurs 4 - 915 p.m. and Sat and Sun 830 - 615 p.m.. I get all weekday mornings off and my Tuesdays and Fridays free. I decided to work the minimum contract hours for the first month and once I am more comfortable I will take on more units to earn more. The 90-minutes journey from Baba to Hon-Atsugi isn't that bad once you get used to it, and now that I have my DS Lite and books, I am always kept entertained. P also loaded every single episode of Pysch Season 1 on my Creative Zen for me, so I am happy.
Yesterday I met Tomoko and went to
Jesus Lifehouse Church
for their afternoon bilingual service, and it was an AWESOME experience to see people of all nationalities worshipping God with all their hearts in Japan! Because of my schedule I won't be able to join them for some time, but I will be going for Life Groups in Ikebukuro on Tuesday nights, and the leader is also teaches English at Berlitz, in the Tameikasanno branch.
In addition, I have decided to sign up for classes with
Sendagaya Japanese Institute
which is on the other side of the Baba station. The lessons are on Mon, Wed and Fri mornings and are F-R-E-E (except for a 3,000 yen registration course) because the instructors are interns who completed 350 hours of training, and P told me that he used to attend their classes but had to stop because it was too expensive. I like free things!
And on a bright note, P and I spent an entire day without arguing yesterday and things are slowly looking up, now that we have our separate lives to lead.
P/S: About the lack of photos- I haven't set up my laptop because there is no more space in the room, but I will get down to adding some colour to my entries soon!