Hmm... beer
I made my pilgrimage today.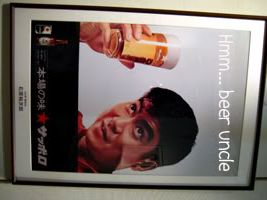 After weeks of procrastination, I finally made it to the
Beer Museum
in Ebisu.
I went with Melissa, whom I met at the kids' training on Monday and clicked with immediately. She teaches at the Ueno branch and moved here the
same time
as me to be with her Japanese boyfriend. They became serious when she visited him in
Singapore
where he was working for a while. Coincidentally, he is now at the final interview stage with
Bloomberg
.
The world is a very small place.

We spent an idyllic afternoon exploring Ebisu and sharing about our lives. She inspired me to start cooking my meals and taking note of all my expenses.

I try lah.
Labels: beer, friendship, museum, photo, tokyo

Link to this entry |