Just another Friday
Christie and I with our kyooshis
I love my Japanese class at Sendagaya Japanese Institute- the lessons are taught by trainee teachers on a rotational basis but they put a lot of effort into making the lessons fun and interactive.

Sometimes it feels like I'm hitting some sort of wall when it comes to understanding and retention, but I know I need to put in more hours to revise what is covered in class.

My classmates come from all over the world and we usually have coffee after our morning lessons and chat about everything from growing up to geography to relationships to politics and it's always enriching to hear from so many perspectives.

The basic course ends August 20th, but Christie is flying back to Malaysia for 2 weeks with her husband to settle her visa and we had a farewell of sorts for her.

I brought them to a Nepali restaurant near the station which was a deal at 750 yen for a lunch set consisting of 1 curry, salad, all-you-can-eat naan, dessert and drink. It's only been a month but I have established myself as unofficial guide to the ins and outs of Baba since I live here. ;)

I will miss the morning routine when the course ends.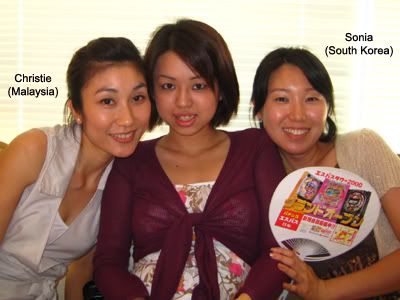 After lunch, Christie and I headed to The National Art Museum in Roppongi to catch Skin and Bones: Parallel Practices in Fashion and Architecture.
Tickets for exhibitions are pretty pricey in Tokyo- an adult ticket normally goes for 1000 yen (SGD12.50) and no re-entry is allowed.

But one thing I love about Tokyo is the fact that there are endless musems to visit and always a good exhibition going on somewhere, and it shall be my little indulgence when I am here. Last week I brought her to the Mori Art Museum to catch the Le Corbusier architecture showcase and for a 52nd floor city view.

So after our trip to the museum, we decided to take a random walk around Roppongi and ended up in Aoyama, and just as spontaneously hopped onto the Hanzomon line and found ourselves in Shibuya. We did some shopping and settled down for a drink at Lotteria.

I came home around half-past 6 to drop off my barang barang and to surprise P with the paper robot I got him from the museum shop, and then walked the usual 20-minutes route to Ikebukuro for Bible Study.

I would have joined P and Elton in Shinjuku for some English fare at The Hub, but I have a long weekend ahead so I shall be a good girl and try to get some sleep tonight...

Wish you were here!
Labels: culture, friendship, language, memories, museum, photo, tokyo

Link to this entry |