Monday, November 19, 2007
So this is winter

Winter is almost here and I am freezing my Singaporean ass off.

I spent a small fortune buying myself a winter wardrobe- a knee length black wool coat with a fur collar, a pair of black leather stiletto-heeled boots, a pair of casual brown cowgirl boots, sweaters, scarves, leggings etc. I figured it's an investment and a girl's gotta look fabulous living in Tokyo!

For most Japanese, Christmas is devoid of any religious meaning and is merely seen as a season for spending time with loved ones and buying gifts for each other. Still you can literally smell the festivity in the air, and you cannot enter a cafe or department store without hearing Christmas carols and jingles played to death.

This weekend came and went in a flurry as always.
Friday was spent with Japanese class in Kamiyacho in the morning, shopping in Lalaport and IKEA way out in Chiba prefecture in the afternoon and then dinner in Nakano with Akina and her sister, who are even more Singaporean than I am!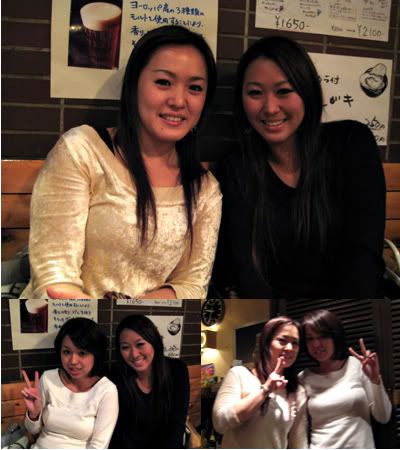 Saturday was a full day's work in Atsugi and dinner in Minatomirai followed by a mellow night in a jazz lounge with Jo, YK and gang. It turns out his housemate was the violionist and I got the chance to talk to him and talk the train back with them together. He's 25 and incredibly talented and down-to-earth- check out his profile
here
.
Today was work as usual and then I went to pick up my winter coat at Shinjuku and came back to watch DVDs and clean up my room.
I'm looking forward to sleeping in tomorrow!
Labels: christmas, food, friendship, memories, music, photo, shopping, tokyo, winter

Link to this entry |