Last Thursday
The weekend flew by again, and this is an overdue post.

On Thursday, my man had booked us a massage session at the posh-dosh Miss Paris (
pah-ree
) and I invited my girl Jo to join us. We live under the same roof but we never seem to have time for each other, and I am so glad we got to spend the day together!
We didn't really have any plans for the day but lugged around our camera gear in hope of taking some good shots, and the weather was so beautiful we ended up hanging out at Yoyogi Park drinking beer and people-watching for a few hours.
I love summer, I do. I love having a tan and wearing my pretty dresses and flip-flops around town. I am Singaporean through and through.
In the evening we met up with his friend J from Melbourne who is here on vacation- apparently they were best mates in elementary school but lost touch growing up and met up for the first time in more than 15 years! I liked him immediately because he speaks Chinese, has Chinese parents and loves singing Chinese songs at karaoke, heh.
We headed to Suidobashi in hope of buying tickets for a live baseball game but it was sold out, so we took all 6 of them to Shibuya to see the busiest intersection in the world- funny how E and I are so immune to it but the rest took out their digicams dutifully and started snapping away. 
Dinner was at an underground
izakaya
with individual booths all decorated differently and governed by a giant fat Buddha. 
After that we went to the karaoke-kan across the street and was ushered into a big room on the 6th floor- and I IMMEDIATELY RECOGNIZED IT AS THE SAME ONE SCARLETT JOHANSON SANG IN IN "LOST IN TRANSLATION".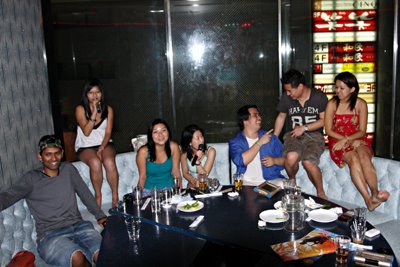 It had to be, I've seen the movie three times! The way the sofa curved, the gaudy lights that flashed behind the tv screen and the view of Shibuya from the window...
My experience in Tokyo is officially complete. (Casey, don't be jealous!)
We ended up singing there for 3 hours straight and catching the last train home.
More pictures from the day
here
.
Labels: friendship, love, memories, night, park, summer, tokyo

Link to this entry |