Saturday, August 16, 2008
Mount Fuji, don't pray pray!
There's a Japanese saying that wise is the man who climbs Mount Fuji once but he who climbs it twice is a fool. E and I decided to tackle Japan's highest mountain this climbing season, along with Jo and Jasmine- it was us girls' virgin experience and E's second time (now he has to do it a third time to become wise again, heh).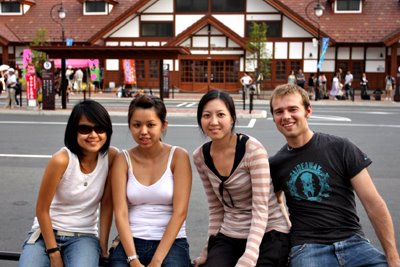 Eager and excited at Kawaguchiko station
We had rented a car for Thursday and Friday and driven from Yokohama all the way to Yamanashi, but being
obon
week, traffic was bad the entire way and we were supposed to see the famous five lakes but ended up only seeing one.
E ready to begin at the 5th statiom
We began our expedition by taking a bus from Kawaguchiko to the 5th station (mid-point) of Mount Fuji. After some light stretching, we started our hike at about 710pm. The initial part was tough because we were acclimatizing to the mountain air and terrain, but it got easier after we picked up the momentum.

My left thigh really started aching at the 7th station and I could barely lift it up. But I had promised E that I wouldn't whine or give up easily, so I kept pushing myself, but the tears wouldn't stop flowing because I couldn't imagine how long more I could go on.

Mind over body, mind over body, I chanted in my head as I pushed the pain aside. E gave me his stick so I could use my right leg and upper body strength to move up the rocky path, and he kept telling me how well I was doing and held my hands when I needed support.

It was about 26 degrees at the beginning of our hike, but the air got thinner and colder as we made our way up, and we put on more and more layers of clothings to keep warm.
The snaking line of climbers towards the summit
Somehow, by grit and sheer determination, we made it to the summit at 210am and it was already pretty crowded. It was another 2 hours before the sunrise, so we had to find a good location to rest. 3776m up, it was unbelievably cold, with nothing to block us against the strong winds that literally whipped us from all directions. Jo could barely walk in a straight line!
I had on 4 thin layers (me and my inability to understand dressing for cold weather) and was trembling like a Energizer bunny, and E sat behind me and hugged me and breathed heavily onto my neck to keep me warm. We huddled like homeless refugees, under a huge black poncho, and I have never been sooo cold for so long in my life. I thought I wouldn't make it through the night.

The first ray of morning light came slightly after 4, and by then the summit was filled with people eager to catch the sunrise. We were all separated as I went into the shop that had just opened to get warm while the rest rushed to get the best view for photography. I stayed with Mike, an English bloke who was climbing alone and had joined our little group somewhere along the 8th station.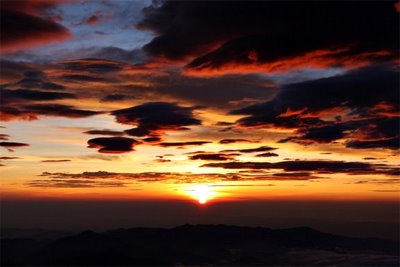 The magnificent sunrise
The sunrise was magnificent, the sky in beautiful hues of orange and red and the clouds that worked themselves in a curious formation like a rainbow over the rising sun. But I was also dead tired, and my mind was preoccupied with the idea of losing E and having to make it down the mountain alone. 
Waiting for our steamin' bowls of noodles
Thankfully, we managed to find everyone in front of the shop, and had the most delicious bowl of steaming hot miso ramen for breakfast.

We survived! (In front of the crater)
At 630, without any proper rest or sleep, we began our descend, which was tougher than I thought. It was broad daylight and all I could see was an infinite stretch of winding road filled with loose volcanic rocks, with no shelter or toilets along the way. No matter how many turns we took, the journey ahead seemed like it would never end, and poor Jo kept falling on her butt because the soles on her trainers were wearing out. 
How I wished I could put on a parachute and throw myself off the mountain, but luckily I maintained some semblance of sanity and kept my foot on the path. We took our minds off the present and kept ourselves entertained by playing stupid games with each other.

4 agonizing hours later, almost 15 hours since we began, we made it back to 5th station, and it was so surreal to be back. I had lost sense of reality by then, it felt like I had been on Fuji for forever.

Behind me was a longsuffering, patient and encouraging boyfriend who carried all my gear, lifted me through the steepest slopes when my legs wouldn't agree with me anymore. It was only much later that E confessed that his shoulders were killing him from the load he carried, which made me wished I could have helped more! I couldn't have completed the climb without my heroic mountain boy.

Back safely at the 5th station
We said goodbye to the girls at Kawaguchiko and were on our way to a hot spring when we realized we were just too damn tired. We decided to drive back to E's apartment instead, and even though he asked me to keep him awake in the car, I kept passing out and couldn't do anything. Once home, we collapsed onto his bed, only waking up to return the rental car and order take-out pizza before going back to sleep till the next morning.

It was one of the things you have to do once in your life, and just another thing checked off my "To do while still in Japan" list.

Until the next mountain!

Photos from E's camera all
here
.
Labels: love, memories, mountain, photo, summer, tokyo, travel

Link to this entry |