Wednesday, September 17, 2008
An Utsunomiya rendezvous
Spontaneity was the name of the game.

"Let's go somewhere."
"Where?"
"Anywhere, up north, out of Tokyo."
"I know, why don't we just get on a random train and go all the way to the countryside? My brother and I used to do that when we were young- we would tell Mum we were around the neighbourhood but we would keep on taking random trains until we find ourselves in the middle of nowhere."
And so they found themselves on the Yamanote platform and headed in the direction of Ikebukuro. She recalled a town named Utsonomiya from the mystery novel she had just completed, so  they located it on the map and decided to go there.
The Utsunomiya line took them out of Tokyo, past Saitama prefecture and then to Tochigi prefecture. Most people from the city went there by bullet train in half the time, but they had no schedule or itinerary to follow and spent the journey looking at the scenery and playing Sudoku.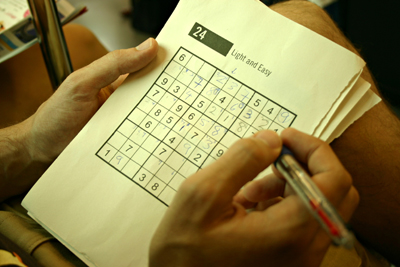 Arriving in Utsunomiya in the mid-afternoon, they headed to the Information counter in the station to pick up a few brochures. Apparently the town was famous for two things- gyozas and jazz. 

They had a coffee at Tully's first and met an old Englishman who was studying a book in the cafe.
"Are you studying Chinese? Me too! I am from Australia and she is from Singapore."  he offered. They struck up a conversation and found out that the elderly man had been in France for many years and then in Japan for a few years, and then South Korea and now was hoping to move to Dalian in China. They talked about studying languages and living in different countries.
After that chance encounter, they took to the streets looking for gyoza and found a brightly-lit restaurant with a curious character named "Stamina Kentaro".
Once seated, he ordered for them a plate of 12 different gyozas for 800 yen. There was the healthy gyoza, the seafood gyoza, the spicy gyoza, the cheese gyoza... Anything you could imagine in a dumpling skin.
At the next table sat a local and a foreigner chatting in Japanese, and when the couple had finished their meal, the foreigner spoke to them. The two men found out they were both from Australia and engaged in a conversation about food, cricket and travelling.
Next, they went into a smaller restaurant down the street with Oriental furnishing and staffed by a young man and an elderly lady, small-town style like you would see in the movies.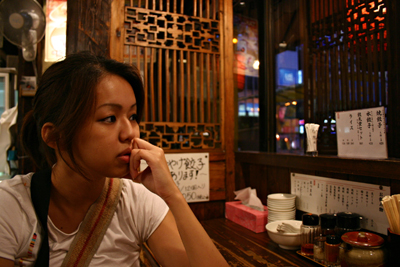 Their bowl of water dumplings took a long time to arrive because the staff had not heard their order, but when it was well worth the wait. Five hearty dumplings of juicy meat wrapped in thick handmade skin the colour of green tea, they devoured it quickly.
Now on a mission and armed with a map, they walked around to see what else this town had to offer. About 15 minutes from the JR station, they found a shop located in the basement of a mall that served different gyozas every day of the week. The interior was designed like a family restaurant and the walls were filled with framed pictures of different gyozas restaurants in town. They ordered another 2 types of gyoza with land-brewed "Romantic Gyoza" beer.
"I think I've had enough gyozas for the rest of my life," she said. "Let's find somewhere to have a drink instead."
Outside, the sky had turned dark and they continued walking in the opposite direction of the station. And then they found Utsunomiya's best-kept secret- Yataiyokocho, a street with tiny vendors selling all kinds of food

,

each shop just big enough to sit about five to six customers. She was impressed by how clean and airy the place was, unlike the narrow cluttered streets of central Tokyo that often left your clothes with the smell of your dinner.
"There are so many foreigners in this town these days," a local remarked in Japanese as the couple walked past a store.
They settled down in a funky bar with white wooden sliding doors and a black counter and alcohol bottles lining the wall. There was one other couple there, obviously on their first date.
After their first drink, everyone got talking. They conversed in Japanese, so she sat quietly while trying to make sense of what was being said, and the couple thought she was being shy.
The Japanese were curious about the out-of-towners, and asked them questions like how old they were, what they did, how they met and got together, how long they had been together... it was like having a drink at your neighbour's, and they loved it.

"Seeing as you are all the way here, why don't you stay the night? There are lots of hotels around." the owner asked them. He wrote the name "Yanase" in

katakana

on a Post-it and stuck it on their map. "It's too far to walk, but give this to any taxi driver and they will be able to take you there. Plenty of reasonably-priced hotel in that area."
After three rounds of drinks, they left the bar and decided to wander the streets. The streets were practically deserted, given it was a late Monday night. Yellow banners with a silhouette of a saxophonist introduced the street as "Jazz Street" and jazz music piped from the speakers of a local sweets store.
They went into a game arcade, one of the few attractions still opened but it was almost empty, save for a few loners looking to while their time away. A far cry from the crowded streets of Kabuki-cho in Shinjuku.
After a quick supper of

oden

at the convenience store, they hopped onto a taxi and got to Yanase just after 11 to check-in for the night.
The owner was right, it was a concentrated area of cheap hotels, many of them a little dingy, but they walked down the road and found a newly-built boutique hotel named "Hotel La Mieux". 
There was no staff in sight, everything was completely automated for the privacy of the customers. They were greeted by a giantic plasma touch-screen with a picture map of all the rooms in hotel, and those that were still available were lit up. It was priced just a little more than a business hotel, and they chose the room that came with a 42" plasma tv, a king-sized bed, a living room area and a bathroom that could be used as a sauna. 
A lift door magically opened to their left when they selected the room on the screen and took them directly to their room. Every room had their private lobby and you could pay for the room with a machine just outside.
The room was beautiful, like it belonged to a rock star on MTV Cribs.
"Could Utsunomiya get any more perfect?" she sighed as she laid in the plush bed with Egyptian-cotton sheets.
It was the perfect way to end their sponteanous road trip, and tomorrow reality beckoned.
The complete set of photos from our adventure

here

. 
Labels: food, love, memories, narration, photo, tokyo, train, travel

Link to this entry |