Today I woke up past noon to P hovering above me. He had a huge grin on his face and patted my head affectionately, and for some reason it made me smile because despite the fact that I was being a lazy bum, had no make-up on and my hair was in a mess, he seemed to find it endearing.
He held up a plastic bag on his left hand and pointed excitedly to the chicken meat inside. He announced that we were having that for lunch and that I should learn how to cook it. So I got up and stood behind him in the kitchen to watch him marinate the chicken.
I do realize how blessed I am to have someone who is constantly looking out for me and nags at me incessantly because he cares. He makes sure I know my train routes and get to my appointments on time, apply pimple cream on my face when I am having a breakout, teach me how to do simple household chores and do my laundry
and
ironing.
We went to Ikebukuro to meet Alex and Mich, but we couldn't get tickets for Pirates 3 showing at Sunshine Cinema so we decided to try our luck at Shinjuku instead. We ended up walking for an hour to three different theatres in the area before settling on a 9:00 p.m. show.
Apparently there are wholesale shops that buy movie tickets in bulk from the theatres for a cheaper rate and then sell it out at a discounted price. A usual ticket cost 1800 yen (about 25SGD) but we got ours for 1300 yen. That's three times what it costs at home, but I remind myself not to compare prices.
Because there was a few hours before the movie, P and I headed home so he could spend time with his mum and I managed to get my mum on MSN and updated her on my week.
P had a craving for ice-cream, so he took me to Nakano and I fell in love with it immediately. It reminded me so much of Singapore- like a cross between Chinatown, Bugis Street and Toa Payoh.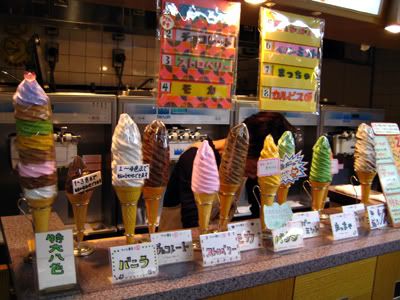 P and his supersize 8-flavour ice-cream cone (350 yen)
Everything was cheap and we had home-made udon for dinner. I made a mental note of the places we walked past so I can explore it on my own when he starts work next week.

Dry udon and tamago udon
We then headed for Shinjuku again to meet Alex and Mich to catch the 3-hour show. I didn't watch Pirates 2 so I lost interest during some parts because there were lots of sub-plots and characters I didn't know about. Not to mention the potrayal of Asian stereotypes when they had Chow Yun Fatt reciting a random Cantonese poem. The movie was set in ancient Singapore but the local characters switched between Cantonese and Mandarin, a small inconsistency which bugged me.

We came back around midnight and P decided he was hungry again, so we headed out for supper. There is something about walking down an empty street in a foreign land in the wee hours of the morning with a special someone, shivering in the cold and chatting about anything and everything and laughing and being silly. We ended up with a yakiniku bento set, a box of dangos (mochis on a stick) and two fried croquettes.

And I wonder why I can't lose weight.