Piacere!
Buongiorno! Io sono insegnante di inglese delia Berlitz.

Yesterday we had an exotic lesson demonstration during our instructor training and spent 40 minutes learning Italian from a native speaker who taught exclusively in the target language. It was definitely a very animated class and now I can greet people and ask basic questions in Italiano.

Other than that, training has been intensive and challenging. I don't feel half as physically drained as I did when I was in Bloomberg but I am a new kind of tired.

P's mum flew in from Hong Kong yesterday and will be here for the next 10 days. On her first night I met them after training at Roppongi and we walked around the area and took her to Roppongi Hills and Tokyo Midtown.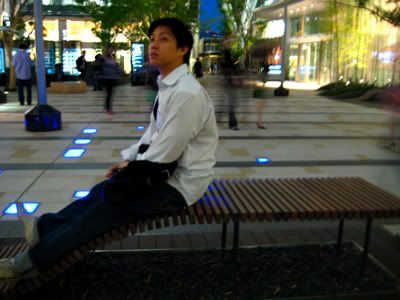 She gets the bed and I will be sleeping on an inflatable mattress in the living room in the meantime. Shikataganai.

To save money, I buy half-priced onigiri and cheap bread from the haku-yen (100 yen) store just behind the apartment every night and eat them as breakfast and lunch. P has been teaching me how to cook simple meals at home too so we save on dinner. Also I have been drinking copious amount of canned coffee and I only realized today it was causing my left eye to twitch.

The train stations are huge and routes so complicated I get off at the same station everyday and still feel like I'm in an unfamiliar place. Today I somehow found myself alighting on a different platform and went to the wrong exit and almost got lost. P and I also took a walk around the area after dinner and there are just endless places to explore.

I remind myself daily what a beautiful place Tokyo is and how blessed I am to be here.
Labels: food, language, life, photo, tokyo, work

Link to this entry |