Saturday, November 24, 2007
Of castles and ice-cream
You can never have too many perfect autumn days.

And so it is that I organized a day trip to Odawara, Kanagawa with my girlfriends, 2 hours on the local train away from central Tokyo. It was clear skies and beautiful weather, although a little cold due to the proximity to the mountains and approaching of winter.

On our way there, we saw the snow-capped peak of Mount Fuji hidden behind the Tanzawa mountains and I excitedly pointed it out to my fellow travellers, much to the amusement of the other Japanese on the train.

Our destination was the Odawara castle which has been destroyed in the Meiji period in an effort to wipe out feudalism, but rebuilt in 1960 as a historical monument. There were parts of ancient city gates, a lot of interesting artefacts from the Edo period and even a small local zoo. Did I mention an amazing panaromic view of the surrounding towns and mountains and ocean from the top of the hill?

I was feeling crazy enough for an ice-cream in the autumn chill, but just seconds after I took my first bite of my marron ice-cream, my hand involuntarily let go of the cone and it ended facewards on the pebbled ground.

"Three second rule! Wipe off the top and eat the rest!" Aditi egged me on.

Still in a semi-daze, I turned to Jo and asked, "Would you?"

Of course by then, Jasmine and her are in hysterics. There is a piece of pebble stuck to my ice-cream and I am actually contemplating eating it.
I sighed and threw my 120 yen into the combustibles bin.
The girls tried to comfort me by offering to buy me another cone, but I knew it was not meant to be. Walking towards the castle entrance, Aditi casually remarked, "There is nothing wrong with eating it, you know, except a dog could have peed on the ground."

We stared at her for a few seconds and then burst out laughing.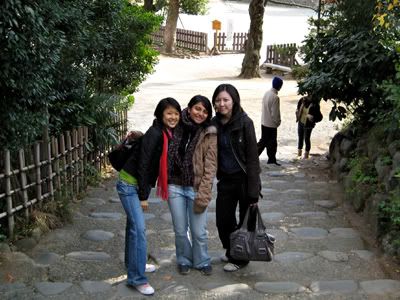 We were a good crowd- Jo and I, the sassy Singaporean girls, Aditi, the Indian girl from the UK with a quick and dry sense of wit and Jas, the girl-next-door from Aussie.
After the castle park, we wandered around and ended up in a local soba shop touting to serve the best handmade noodles in the country, and it did not disappoint.

Satisfied, we decided to explore the town for more food but somehow found ourselves in Baskin-Robbins, and this time my double-scoop ice-cream cone stayed in my hand. :)

If only every weekend could be a holiday.

For more pictures of our little adventure, click here.
Labels: autumn, food, friendship, memories, photo, tokyo, train, travel

Link to this entry |