Thursday, August 21, 2008
海の思い出
In Siam Reap, our friend (and tuk-tuk driver extraordinaire) Sothea takes us to a local beach on our last day. E and I are both templed out and want to do something different from the usual touristy itinerary. Sothea drives us to a beautiful beach that flows into the Tonle Sap near the horseback riding school, where the locals go for a respite from the summer heat. 

There, they rent space from the old toothless lady who owns part of the beach and sit there in a haphazard shelter made of wooden poles and a patchwork of tarpaulin sheets, with hammocks hanging from pole to pole. There are
no
foreigners around, and it is the perfect way to end our Cambodian adventure.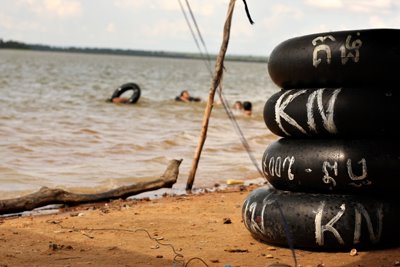 Sothea announces that he would like to have a swim, and E eagerly follows. I stay behind to watch our belongings. Not long ago, I too am convinced to go into the water and swap places with E.

I place a tyre around myself as a floating device because I am not dressed for the beach. "Have you gotten yourself wet yet?" E shouts at me from his hammock, and as I lean forward to hear him better, I fall into the water. I scream and laugh at the same time.

Near me a group of children are having a field day playing water gymnastics. They climb onto a small boat that is secured to a long pole in the water, and take turns to jump into the water. Perhaps wanting to impress, they look over at me and try out a different move each time. 
I decide to join in the fun by shouting 1,2,3 in all the languages I know (English, Chinese, Thai, Japanese and Khmer) and soon they wait for my cue before jumping. E is able to take some stunning shots of the children in action.
This is how I want to remember my summer of 2008, my time in Cambodia with my new friend Sothea.
One month later, back in Japan, it is still summer and hot as hell. The city is getting to me and I feel a constant need to escape to the outdoors, which is something that has never happened to me before.
Today I am in Atami in Shizuoka prefecture, about 2.5 hours away from Tokyo by train. We lay out our towels on the beach, lie in the shelter and read. Around us are young people in bright bikinis and three-generational families enjoying their summer vacation. Hawaiian-style music (and later golden oldies, easy listening and jazz) blast from the speaker behind us. We have barbequed corn-on-a-cob and skewered fish and Asahi beer. 
I don't have a swimsuit but step into the water anyway, and before me is an infinite expense of sea, and all is quiet except the distant sound of merriment from the beachgoers. The water is cool to my feet and clear as crystal.
All I can think is, "I can be in so many places now, but I am here."
I miss Sothea, and I miss Cambodia.
Labels: beach, cambodia, confession, memories, photo, summer, tokyo, travel

Link to this entry |